This is a sponsored review from BlogHer and Kenmore.
-The shelves in the fridge are all adjustable, and I geeked out on this a little, but there is one shelf that slides back. Tall bottle of Martinelli's ? No problem, the shelf slides back to half it's depth. When you need the shelf space back, slide it back out. Cool.
-At first I didn't like the whole french-door, bottom freezer thing, but I'm warming to it quickly (get it?) Seems like you get in the freezer about a tenth of the times you do in the fridge, right? And when you do the freezer drawer is cavernous. This isn't advertised anywhere that I can find, but the freezer door tilts out, for easy access. Also, we had had the fridge for almost two weeks when a neighbor discovered another whole huge drawer in the freezer. S'awesome.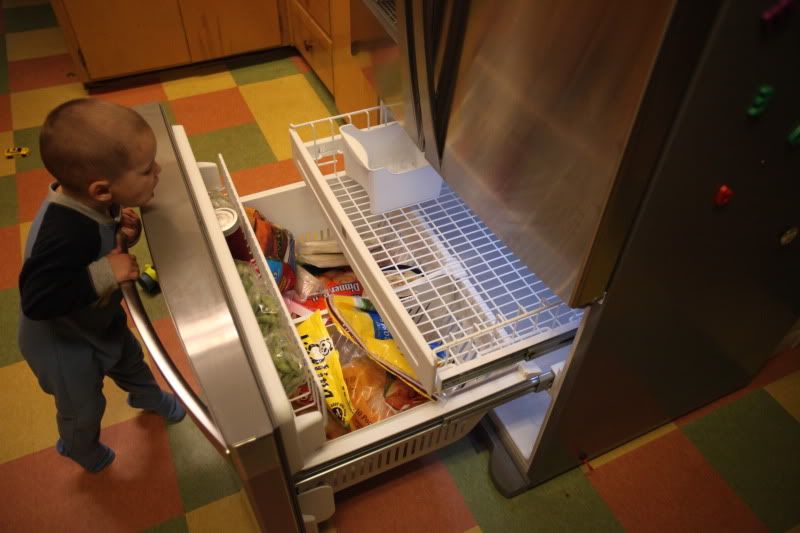 -Kiddie features. Not really billed as such, but when you have a 2 year-old and droves of toddler friends and cousins over, these two features become life savers:
- You can lock the touchscreen (and simultaneously) the water and ice dispenser. In-dispenser-able! Like most in-door water/ice units, this one has a tray to catch a small (and I do mean small) amount of water in the case of a spill. When cousin Betsy (so much energy!) smartly drags the footstool over so she can reach the irresistibly blue touch screen and water controls, that little tray is taxed beyond it's design. As is Betsy's shirt. And the floor. No more! We just hold the "lock" button for three seconds and we're rewarded with a little trill and a screen that says "locked." Sorry, Betsy-boots.
- If you leave the door open for more than a few seconds, a soft chime begins until you close the door. Useful for parents with two year-olds just beginning the "open the fridge door and stare at the stuff in there for awhile" stage. And for those late-night sleep-eat-walking binges. That I ... heard ... sometimes ... people ... have.
So far we're VERY pleased with the fridge. Everyone comments on the stainless, and the size, and (of course) the touchscreen. Recently one friend remarked (with no small amount of jealousy) "jeez, you can't even watch movies on that screen?"
How bout it, Kenmore?

-Chup
Want your own child friendly Kenmore Elite fridge
(or your choice of Kenmore Elite appliances)?
enter here!
How about a stand mixer?
win a Kendmore Elite Stand Mixer (400 Watt!)
on my blog by entering here!
(if you've already entered, please know you are in the drawing, no need to enter again!)
I am Courtney Kendrick and I am wondering if I will ever stop being self-conscious of showing the insides of my fridge.