This is a sponsored review from BlogHer and Kenmore.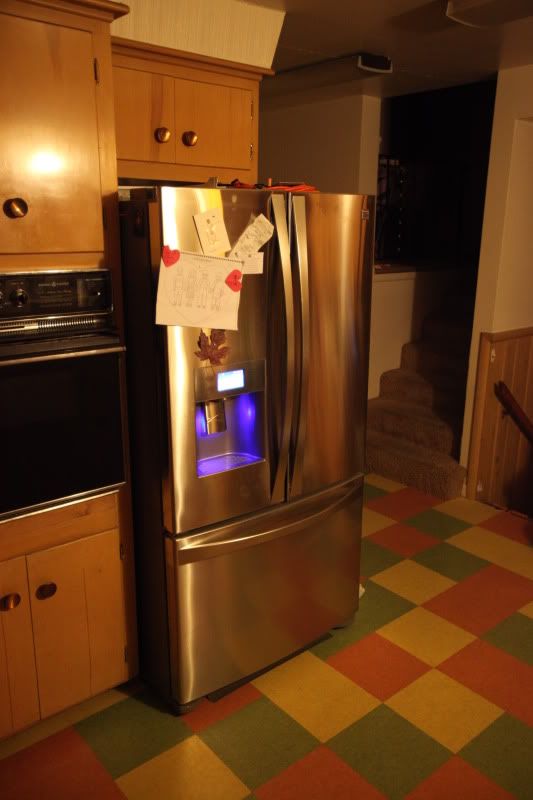 We needed a new fridge.
For really real.
Not: "our fridge is old and kinda smelly and we don't like the color so we need a new fridge," but "the freezer in our fridge ices up every two weeks and then the fridge goes warm and spoils the leftovers and daddy says bad words and can we please have a new fridge?"
The de-icing process was awesome. I'd notice the milk getting warm, and know that within the day I would have to:
1- gather towels
2- drag in the wet/dry shop vac
3- drag in the big camping cooler and load everything from the freezer into it
4- hook the hose up to the downstairs shower
5- remove freezer shelves
6- undo the three screws holding the freezer radiator cover
7-unplug the light (get a nice zap EVERY time)
8-pack the bottom of freezer and floor around fridge with towels (see #1)
9- turn on warm water from shower, melt/blast ice with hose while sucking up water with shop-vac all in a space less that two feet wide. Have you seen me?
10- 15 sweaty minutes later, repeat 1-9 in reverse, then go downstairs to empty bucket holding water that inevitably leaks from fridge though floor, through ceiling into downstairs office.
Like I said. Awesome.
We NEEDED a new fridge.
Thanks to Kenmore and BlogHer, WE'VE GOT ONE. Fortunately for us, they ain't messin' around. It's Kenmore's top of the line. The
Kenmore Elite Trio 27.6 cu. ft. French-Door Bottom-Freezer
. Say that ten times fast.
It's really nice. Like, a touchscreen in the front of it, nice. Stainless steel and LED lighting, nice. Interactive walk through
here
.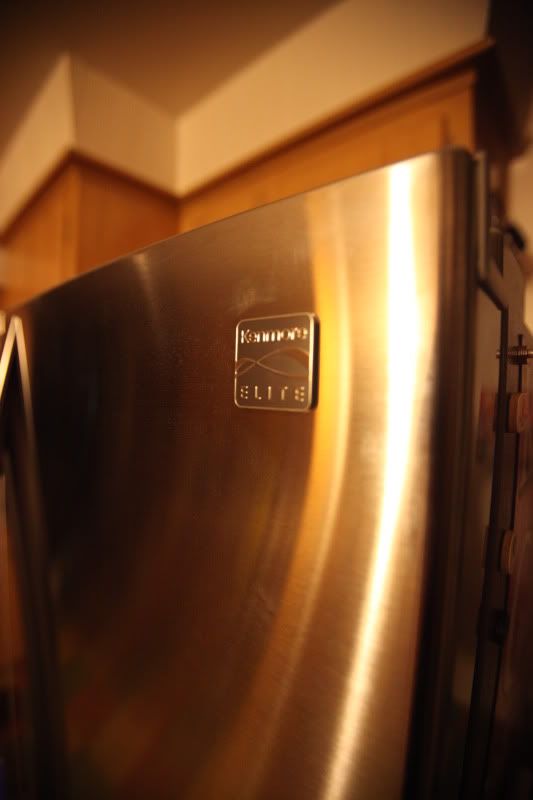 Over the next four weeks we'll be writing about our experience with our new best friend. We'll do our best to remain objective, but I have to tell you; while anything would have been an improvement over Ol' White-sides, we've been extremely impressed with the fridge so far.
Right off the bat, a couple of things we've noticed:
-It's huge inside. It fits...everything. Remember Oscar the Grouch's trash can? How it was just a normal trash can on the outside but inside it was like a fully furnished apartment? It's just like that.
While
Kenmore
may...question the parallel, Oscar's trash can was the first thing I thought of.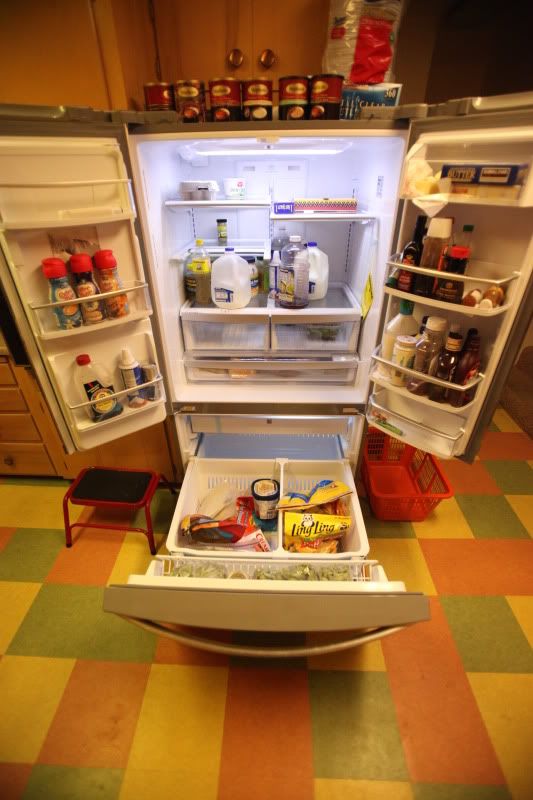 The OUTSIDE dimensions of the new fridge are almost exactly the same as our old one. The handles stick out about 2 inches more than the old. Yes, I measured.
INSIDE, it's nuts how big it is. Supposedly, it'll hold 465 cans of soda. That's like, one for every day of the year. Or something. I'm bad with math. It's huge and adjustable and there's special places for everything and, and....more on that later.
-In our old fridge there was this thermocline (look it up) that'd kinda keep things around the temperature we wanted. Another shelf up; milk with ice chunks. With the new Kenmore, everything stays the same temperature throughout the fridge. According to the website, "Multi Air Flow" uses 28 vents to circulate air.
Totally works, but I think it would've been way more impressive with 465 vents. Ya know, one for each soda.
So this is the part where YOU come in.
YOU can win one of these dream machines of frosty joy (or a dishwasher, washer/dryer, range oven whichever YOU so need) by visiting the always entertaining
BlogHer Review Round Up
and enter to win, win, WIN!!!
Sorry. We get worked up sometimes. A lot of the times. Actually. WHEN BIG PRIZES ARE INVOLVED!!!
Wait, before you go . . .
this is the other part where YOU come in. By entering here on my blog, YOU can win your very own coveted
5-Quart Stand Mixer
(400 watt that's what).
There is an array of ways to enter:
No duplicate comments.
You may receive (2) total entries by selecting from the following entry methods:
a)

Leave a comment in response to the sweepstakes prompt on this post
b)

Tweet about this promotion and leave the URL to that tweet in a comment on this post
c)

Blog about this promotion and leave the URL to that post in a comment on this post
This giveaway is open to US Residents age 18 or older.
Winners will be selected via random draw, and will be notified by e-mail.
You have 72 hours to get back to me, otherwise a new winner will be selected.
The Official Rules are available
here
. Sweepstakes ends on 12/15/2010
Learn more about Kenmore Innovations
!
Stay tuned for the second part in our Kenmore Elite Refrigerator Review entitled,
The Relationship Between My Fridge and My Two Year Old, A Love Story.