Chup

here. In this space during this week, I'll get to offer my .02. Since "Dear

cjane

" started as a place for my dear wife to answer questions about, give suggestions for, or just gush about the stuffs she fancies –I'll do some of the same. But '

cept

guy stuff. I'm hoping to spread the word about stuff I dig, offer suggestions for birthdays, anniversaries and the like, and maybe answer some questions. Gadgets and guy stuff? Sure. Relationship advice? ABSOLUTELY.
Good? Sweet.
Here's what I'm thinking for a schedule:
Monday - My Watch
Tuesday – My Flashlight(s)
Wednesday – Questions
Thursday – My Pocket Knife
Friday – Photography
Lemme know if you'd like your time spent otherwise. Otherwise, that's the plan.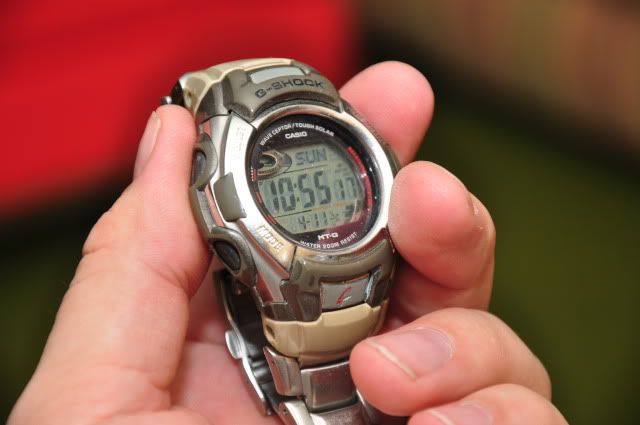 This, is my watch. It is a Casio G-shock MTG-900. It's almost perfect. Hyperbole? Read on.
Like a lot of guys, I'm a gear-head. I like stuff. I like to research, discuss, try, return, adjust or trade to try to obtain…the best stuff. Love good design, LOVE function,

ratta

-tat-tat.
This watch kills it.
Here's my lists:
Pro
- Solar powered –

fuhgeddaboudit

. I'

ve

never wound it, set it, or replaced the battery. 5 minutes of light a day keeps it charged. Yeah.
- Atomic synced – ditto.

Syncronizes

with the Atomic clock in Denver every night. Who's a "who's watch is most accurate" snob? ME!
- G-shock – Tough!
- Mineral Crystal face - Tough!
- Stainless steel – Wear it to the beach. Then to church. Tough! Mines silver, but they also make it in black.

Sessy

.
- Sweet tilt-sensor night light. Just rotate your wrist and voila! the night light comes on. AWESOME for impressing/annoying people in movie theaters. More on this in a sec. Both a pro and a con.
- World time – VERY easy (two buttons, up or down) to set your watch for different time zones. Brilliant for travel.
Con
- Sweet tilt sensor night light. This does kill your "charge" It'll take a week or so to do it, and without regular exposure to light, my watch died. If you run the battery down completely, it takes an hour of direct sunlight to function properly. You CAN turn this feature off, and then the night light is just a regular button-press away. HOWEVER, I seem to have done irreparable damage to either the battery or the light itself, because my light is dead. No

tilty

, no button

pressy

. No

nothin

'. BUGS. It's been this way for 4 years, and I'm used to it now. I'

ve

asked at several watch/jewelry shops, and none of them have been able to replace the battery. Apparently a send-it-back-to-the-factory type of deal. Deal killer for me? No. Other than the light the watch performs exactly as it did when new. Bummer? Yeah.
- Plastic – There are several plastic pieces integrated into the stainless steel design of the watch. The dark plastic is bomber. The lighter plastic that joins the band and the watch body is…less so. It's painted or coated to simulate the stainless of the band, and the coating lasts about a week. I'm hard on stuff, but c'

mon

. Also, perhaps because of my acidic perspiration, the plastic has started to crack on the inside of the band. Your mom can't see it, and it's still structurally sound but…c'

mon

.
- It has alarms and a stopwatch, fine. Also has this funky time recorder mode that I never use. Lets you record the starts and stops of…events.

Whoopitty

doo

.
I could go on.
And…I will. My dad gave me this watch. Ah, the sentiment. Bought himself one of the same when he gave it to me. 5 Christmases ago, I think. I like watches, I have a bunch, and while I sometimes yearn for a 44mm

Panerai

, this is the one that stays on my wrist. Brilliantly dependable and accurate, respectably stylish.

Everyman's

. Love it. It's one of my stuffs that I would not want to do without, and I recommend it to anyone who'll listen.
Here's a link for more technical details, variants on the model, color, other reviews etc. As usual, a little digging will yield better prices. Retail seems to be around $100 at Target,

Walmart

etc., but I think they can be had for around $75.
http://www.amazon.com/Casio-G-Shock-Atomic-Tough-MTG900DA-8V/dp/B00134L8XU/ref=tag_tdp_ptcn_edpp_url
So that's it. My first review.

Whatcha

think? More detail? Less? More irony? Requests? We got a week here, let's make good use. - ck