Oh man. Where to start...
All flashlights are not created equal? Understatement, yes, but I don't want to lose anyone early on.
Thing is, flashlights -like anything else- have their own little corner of the world. Highly specialized research and development, a mature design and marketing hierarchy, fads, fashions, loathe factor, lust factor and their very own metalanguage. It follows, therefore, that a select group of people would totally geek-out over them.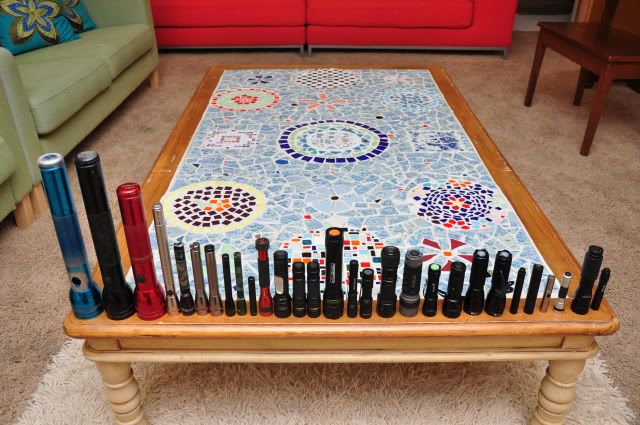 For some people, a flashlight is a pink, yellow, or orange plastic thing that sits in the junk drawer and makes "C" batteries go dead.
Gag.
For me, the perfect flashlight (you're abso-freeking-lutely right, it's a quest) is a test bed nonpareil for the elusive fusion of form and function. Exceptional industrial design, bleeding-edge technology and confident utility, thanks very much.
Joy!
Here's my favorite (right now)
The Streamlight Microstream
: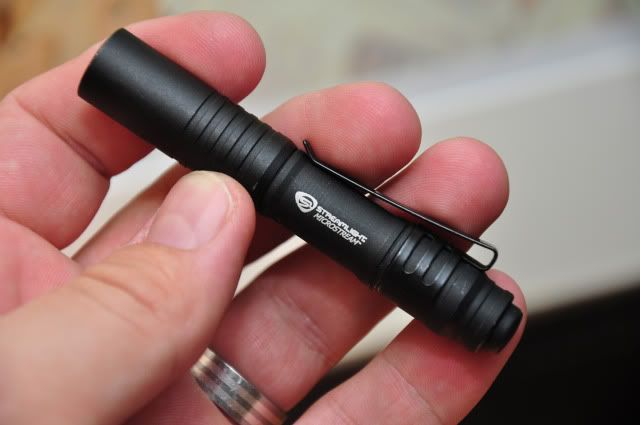 Last time I was at my parents house in Idaho, my dad (fellow flashlight geek) got an excited look on his face and disappeared into his office. As he hurried back out, he tossed this tiny thing to me and said "look what I found." We immediately set to, hushed tones and grunts of excitement:
"Emitter?"
"Only 1/2 watt, but check it out!"
"Sweet! Triple 'A'...What kind of switch?"
"Forward clicky...momentary."
"SWEET. It's so small...and...it feels like it's hard coated..."
"Yeah, H-II."
"SWEET!"
My brother rolled his eyes. Not the first time.
"I just don't get the flashlight thing."
My little brother, 6 years my younger and High School Valedictorian, had his M.D. before I had my first "real" job. He's the nicest guy I know and he's my best friend in the world. But sometimes he doesn't have a brain. And his taste is in his mouth.
I am nothing, however, if not patient.
"You have to admit, even if you don't like flashlights, that this one is cool." I said.
"I'm a Doctor, I don't have to admit anything." **
I dragged him into the bathroom (dark, no windows) to show him.
"Look at how freeking bright this thing is."
He seems genuinely surprised at how much light comes out of such a tiny package.
"Scratch it with your fingernail...feel that? That's hard-anodizing. Super tough. Military grade, dude."
Marginally more impressed.
"Best part is, the LEDs they're making these days are crazy. The 1/2 watt LED in this is easily 10 times more efficient than the 1/2 watt I bought last year."
His eyes start to glaze over...
"Ok. It's so efficient that even on a small battery like a 'AAA' it'll run FOR-EV-ER, seriously, like weeks. AND it'll NEVER burn out."
"Seriously?" Pause. "This little thing? Ok. That's pretty cool."
And that's all I got. But it's all I needed. Baby steps, right?
**he may or may not have actually said this.
When I tried to give it back to my dad, he said "it's yours." He's cool like that. He said he paid $20 for it on Amazon. A quick
google
tonight says as cheap as $13. Streamlight also makes a longer, two-battery version, The
Stylus Pro
. A little brighter, a little longer run-time. Sweet.
I had prepared a full-length deal on incandescent bulbs vs.
LED
, plastics, aluminum, coatings, optics, driver circuitry, and battery technology, but I figure that's what
Wikipedia
and
Candlepower
are for, right? Knock yourself out.
Simply put, this is a very cool little light. It's small, super bright, a single battery will last forever, and it's not super expensive.
Check on the sleeping kids. Plumb the depths of your purse. Help your pregnant wife down the theater steps after a movie. Is that a raccoon or a wookalar in the back yard?
A perfect gift if ever there was one. Careful, though...you may start something.
-ck
I am c jane, this blog promotes good stuff.
contact me:
dearcjane@gmail.com