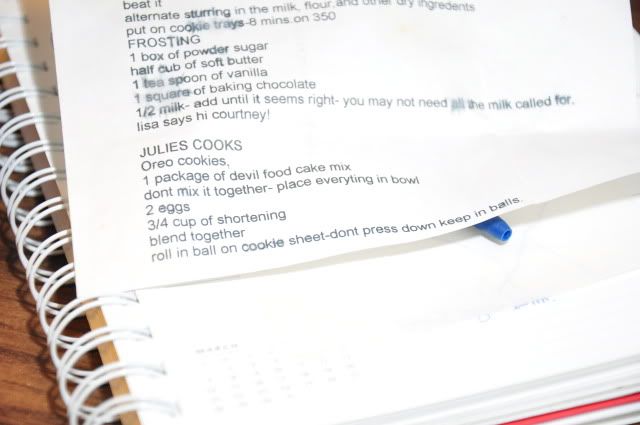 when my sister stephanie
was a young woman
her church youth leader
made her a batch of
"homemade oreo cookies"
and they were a revelation.
i was not living at home
when the oreo cookies
made their way into my sister's heart
but she sent me the recipe in an email
so that i too could partake.
as you can see
(above)
i still have the original email
(sent in 1998)
if baked softly, they are everything
my sister claimed them to be
soft, creamy, sweet with a
bite of tea time.
though do they taste like actual
"homemade oreo cookies"?
i sometimes wonder.
i'd almost say they were better.
oreo cookies
(a la julie)
1 package of devil's food cake mix
2 eggs
3/4 cup of shortening

blend all together at once.
roll soft dough in small balls
on a cookie sheet.
(don't press down,
keep balls intact before baking)
bake at 350 degrees
for 8 minutes
(don't you dare over-bake)
frosting for the middle:
8 oz. cream cheese
1/2 stick of butter
2 tsp. vanilla
2 to 4 c. powdered sugar
mix until smooth.
when cookies are cool:
frost backs of cookies
and make sandwich with another cookie.
easy does it.